Overview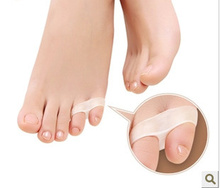 A bunion is a ?bump? on the joint at the base of the big toe-the metatarsophalangeal (MTP) joint-that forms when the bone or tissue at the big toe joint moves out of place. The toe is forced to bend toward the others, causing an often painful lump of bone on the foot. Because this joint carries a lot of the body's weight while walking, bunions can cause extreme pain if left untreated. The MTP joint itself may become stiff and sore, making even the wearing of shoes difficult or impossible. A bunion-from the Latin "bunio," meaning enlargement, can also occur on the outside of the foot along the little toe, where it is called a "bunionette" or "tailor's bunion".

Causes
By far the most common cause of bunions is the prolonged wearing of poorly fitting shoes, usually shoes with a narrow, pointed toe box that squeezes the toes into an unnatural position. Bunions also may be caused by arthritis or polio. Heredity often plays a role in bunion formation. But these causes account for only a small percentage of bunions. A study by the American Orthopaedic Foot and Ankle Society found that 88 percent of women in the U.S. wear shoes that are too small and 55 percent have bunions. Not surprisingly, bunions are nine times more common in women than men.

Symptoms
Bunions may or may not cause symptoms. A frequent symptom is foot pain in the involved area when walking or wearing shoes; rest relieves this pain. A bunion causes enlargement of the base of the big toe and is usually associated with positioning of the big toe toward the smaller toes. Shoe pressure in this area can cause interment pain while the development of arthritis in more severe bunions can lead to chronic pain. Bunions that cause marked pain are often associated with swelling of the soft tissues, redness, and local tenderness. It is important to note that, in postpubertal men and postmenopausal women, pain at the base of the big toe can be caused by gout and gouty arthritis that is similar to the pain caused by bunions.

Diagnosis
Before examining your foot, the doctor will ask you about the types of shoes you wear and how often you wear them. He or she also will ask if anyone else in your family has had bunions or if you have had any previous injury to the foot. In most cases, your doctor can diagnose a bunion just by examining your foot. During this exam, you will be asked to move your big toe up and down to see if you can move it as much as you should be able to. The doctor also will look for signs of redness and swelling and ask if the area is painful. Your doctor may want to order X-rays of the foot to check for other causes of pain, to determine whether there is significant arthritis and to see if the bones are aligned properly.

Non Surgical Treatment
Technically, you can only ?fix a bunion? with surgery, but many patients don't need it to get symptom relief. In its early stages, the progression of the bunion deformity can often be dramatically slowed. Removing pressure from the bunion area and balancing the tendon and ligament alignment are the primary goals of mild bunion treatment. For example, it is important to wear shoes that have sufficient room in the toe area to accommodate the bunion - that means softer leather shoes to mold to the deformity and platform type heels for better foot and arch support. Your doctor may also advise the use of pads to protect the bunion from shoe pressure. Customized shoe inserts, called orthotics are made exclusively for your foot and are often used to correct the alignment of the arch and big toe joint. In some cases, physicians also use anti-inflammatory creams around the bunion.


Surgical Treatment
If conservative treatment doesn't provide relief, you may need surgery. A number of surgical procedures are performed for bunions, and no particular surgery is best for every problem. Knowing what caused your bunion is essential for choosing the best procedure to ensure correction without recurrence. Most surgical procedures include rmoving the swollen tissue from around your big toe joint Straightening your big toe by removing part of the bone Permanently joining the bones of your affected joint You may be able to walk on your foot immediately after some bunion procedures. With other procedures, it may be a few weeks or longer. To prevent a recurrence, you'll need to wear proper shoes after recovery.

Prevention
To help prevent bunions, select your style and size of shoes wisely. Choose shoes with a wide toe area and a half-inch of space between the tip of your longest toe and the end of the shoe. Shoes also should conform to the shape of your feet without causing too much pressure.